You're Not Very Important:
12 Steps Away from Self-Esteem and Toward a Better World
Douglas W. Texter
ISBN 9781894953207 (trade paperback)
ISBN 9781894953153 (ebook)
$13.95 (trade paperback)
$2.99 (ebook)
Amazon – BN – BAMM – Chapters (CND) – AmazonUK – AmazonCND –Powells – Smashwords (multiformat)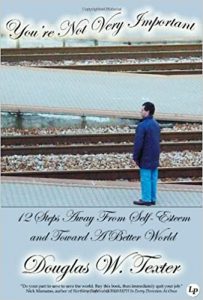 Douglas Texter takes his readers on a whirlwind tour of the practice of self-betterment throughout the ages in this biting parody of self-help literature. He carefully explores the Big 12 myths of self-improvement, and at the same time, delivers a devastating, sardonic social and political commentary.
Finally, the truth has come out. Education is a myth. Creativity is a myth. Self-actualization is a myth. And mythology? That too is a myth. Douglas Texter is the first self-help guru who tells us what we already know: no couch potato ever built a death camp. Do your part to save the world. Buy this book, then immediately quit your job. –Nick Mamatas, author of Northern Gothic and 3000 MPH In Every Direction At Once
Doug Texter may not be very important, but he's very, very funny. This wickedly delicious little book skewers all things we hold dear when it comes to the zillion-dollar motivational industry. It's a great — and sometimes thought-provoking — read. Tuck a copy of "You're Not Very Important" in your fabulously over-priced laptop and tommorow's time-wasting meeting will zoom past as you snicker over Doug's insights into the stuff that makes us tick. — Robert Darden, Senior Editor, "The Door" Magazine. Author of On the Eighth Day, God Laughed.
Chapter I. The Myth of Planning shows you how sales-rep Tiffany Johnson secures the 2000-student adoption of the outrageously expensive textbook To Market, To Market by using the techniques she learned in Ninety Seven Habits of Really Rapacious People.
Chapter II. In The Myth of Education, you'll attend gym class with fourteen-year-old Winston Nebbish and learn how our education system creates and unleashes over-achievers who do incredible damage. You'll also discover the secrets behind dodge ball and the fine art of giving a wedgie.
Chapter III. The Myth of Work takes you behind the scenes at Ishmael's Caffeine Machine, America's hottest new high-end coffee retailer. Peeking out from behind the flaps of the sweat lodge that CEO Martha Little Sympathy has built, you'll witness the birth of the Moby Dick Product Line. You'll also accompany marketing guru Lisa Jones to a focus-group meeting and the strangest worker-empowerment session you'll ever see.
Chapter IV. In The Myth of Mythology, you'll bear witness to the way in which belief in God enables medieval pickpocket Raoul—who faces a choice between a hanging and a holy war–to find the courage to lead fifteen thousand mercenaries on the First Crusade. Our world has never been the same.
Chapter V. The Myth of Self-Actualization takes you to a meeting of "The Formula," where, along with former pot head Michael Ginley, you'll learn how to GET IT, how to BE IT, and, most important of all, how to PAY FOR IT.
Chapter VI. The Myth of Creativity gives you an advance screening of Saving Private Ryan's Credit Rating, the MFA project of Frederick P. Zalston. You'll accompany the members of the 241st Extraction Brigade as they fight their way through a barrage of product placements to deliver an overdue American Express bill.
Chapter VII. In The Myth of Self-Denial, you'll see how your favorite vampire finds the courage to take a bite out of life (and everybody else). Young Vlad the Caresser discovers that knowing how to make a good quiche doesn't cut the mustard when you're trying to protect your homeland. This is the Dracula story that Bram Stoker didn't have the stomach to tell.
Chapter VIII. The Myth of Diversity lets you view the results of CEO J. B. Downing's decision to create a truly diverse workplace. Wanting to melt down human resources into ingots of profit, Downing tells HR manager Bob De Lucca to "bring me Wobblies and bring me Wookies. Bring me all of this and more." J. B.'s Worktopia initiative is diversity unlike anything you've ever seen.
Chapter IX. In The Myth of Philosophy, you'll sit one cubicle over from intern Carrie Hoofsnagle as she helps the Right Thinking Institute to engage in some of the most convoluted cognition that you're likely ever to witness. You'll discover what happens when RTI applies flawless reasoning and free alcohol to the problem of getting architect and Civil War re-enactor Joseph Legucci to build the Mall of Northern Aggression.
Chapter X. The Myth of Social Activism shows you how Judge Jack Lovell embroils young dirt farmer Walter Smith in the War to End all Wars. Speeding off with Walter to Camp Xenophobia, you'll see how the Great War made the world safe for the American way of life and the not-very-flattering house dresses worn by J. Edgar Hoover.
Chapter XI. The Myth of Vision returns to the dawn of time so that you can see the very first "Aha!" moment. You'll be standing by the flip chart when the planet's original idea man, Oog, partners up with his cave mate of indeterminate gender, Boog, to start a mastodon-extermination company.
Chapter XII. And, finally, The Myth of Sisyphus ties together everything you've learned and sends you back to your room, exactly the place where you can do the least harm.