Naturopathic Oncology, Fourth Edition
Dr. Neil McKinney
ISBN 9781926946153 (paperback)
$69.00 USD
Trade Paperback – Amazon – BN – AmazonUK – AmazonCND – Powells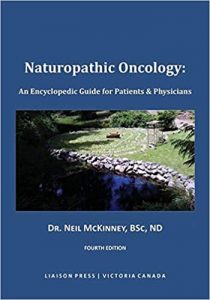 This fourth edition of Dr McKinney's naturopathic book on cancer treatments and causes has benefited from many years of clinical experience and research since his first edition, and is completely reorganized, with new chapters and examples of cancer treatments that have shown amazing results.
Dr. McKinney has made this book significantly more user-friendly,  creating a greater balance between the technical medical information that doctors are looking for and the straightforward advice in simple terms that patients are looking for.   These have been teased apart into a simple introduction that tells what to do, and later sections explaining why they are done, and how these treatments actually work.
There is a focus on clinically effective natural medicines, along with an understanding of the mechanisms of action on growth factors specific to each type of cancer.  This focus on molecular targets in oncology has advanced the rational application of naturopathy to the cancer patient, Naturopathic Oncology includes scientific references and an expanded bibliography.  Naturopathic doctors across Canada have used this resource to improve patient outcomes, and have benefited from mentoring by Dr. McKinney.  These books have also increased awareness and created bridges with the medical oncology community, moving us towards true integration in oncology care.