Random Acts of Malice: The Best of Happy Woman Magazine
edited by Sharon Grehan
isbn 9781894953320 (trade paperback)
$13.95
Trade Paperback – Amazon – BN – BAMM – Chapters (CND) – AmazonUK – AmazonCND – Powells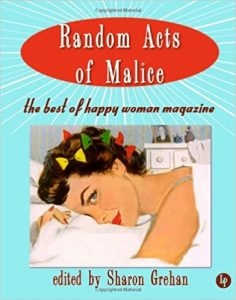 Random Acts of Malice features a selection of the wickedest (and funniest) articles from the last five years of Happy Woman Magazine. Featuring work by some of the best satirists on the planet: Sharon Grehan, Elizabeth Hanes, Elaine Langlois, Pamela Monk, Jessica Becht, Mike Boone, Crystal Click, Christina Delia, Stephen James, Meredith Litt, Susan Shoemaker, Diane Sokoloski, Sarah Szucs, and Julie Ward…
Can you afford NOT to buy this book?
Congratulations on your very fine judgment! The Best of Happy Woman Magazine is just what the title suggests — the very best of the award winning website Happy Woman Magazine.com. Inside you will find miles and miles — well, actually if each page is laid end to end you will have approximately 2914 inches of humour, which is a lot.
To all of the people who have slaved away for the past five years making Happy Woman Magazine the blazing success that it is (you know who you are!) without a word of thanks or praise, and to all the loyal readers and fans, I would like to take this opportunity to say "You're welcome!"
—Sharon Grehan
Random Acts of Malice and Happy Woman Magazine are parody publications, so don't come crying to us if someone accidentally took out your liver or you starved to death on our diet. The interviews are not real and the jury is still out on the interviewer's status.