FF&E: Furnish and Equip Your Vacation or Executive Rental in Five Days
Anita Ericksen
ISBN 9781894953979 (paperback)
$24.95
Trade Paperback – Amazon – BN – BAMM – Chapters (CND) – AmazonUK – AmazonCND – Powells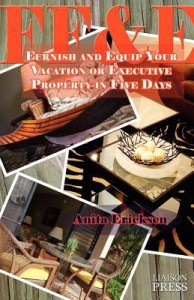 Whether you are a first-time investor, a seasoned pro, or an owner needing to update an existing property,
FF&E
will take you through the steps needed to get your property in shape and ready for tenants.
FF&E
takes the guesswork out of refurbishing, furnishing, equipping and decorating. It takes what would be weeks of hard work and second guessing and shortens it to five days of confident purchasing and seamless organization. This book is an easy to follow guide, packed with information, designed specifically for the target market of individuals with average- to above-average income, including vacationers, families, couples, singles, retirees and executives. What this book illustrates is how to simply, basically, and economically fully furnish and equip a property in as little as five days and create a property that will attract tenants, retain tenants, and ensure repeat tenants.